gz-education-events-template
None
CIC Insurance Company Operations Institute - CIC Live Webinar (2-day)
PLEASE NOTE THAT OUR EVENTS REGISTRATION SYSTEM
 DOES NOT SUPPORT INTERNET EXPLORER.   
If you have issues with online registration, we suggest that you try another browser.
View classes by LOCATION
View classes by DATE
How to find NPN/ get CE transcript

40% off your first purchase!

 Use Code 

1stABEN

 at checkout

**NEW COVID-19 CLASSROOM PROTOCOLS**   IIABSC is taken extra precautions to assure your safety. However, if you do not feel comfortable attending a class, please let us know and we will issue a full refund. If you do attend class, please make a note of the following:

Please do not attend class if you are not feeling well or if you have a known exposure to COVID-19 in the past two weeks.
You will need to bring your own pen, pencil and a highlighter if you want one.
Food and beverage items may be limited so plan ahead.
Masks are not required, but are encouraged; however, they will not be provided.
CIC Insurance Company Operations Institute - CIC Live Webinar (2-day)
Tuesday, May 18, 2021 8:00 AM - Wednesday, May 19, 2021 5:00 PM (EDT)
Description
In the CIC Commercial Casualty Institute, you will gain a detailed understanding of the coverage, limitations, and exclusions of the Commercial General Liability (CGL) Policy, the Business Auto Policy (BAP), and the Workers' Compensation and Employers' Liability Insurance Policy (WC & EL Policy). Topics covered include:
Commercial General Liability Concepts & Coverage
Additional Insured Concepts and Endorsements
Business Automobile Coverages and Endorsements
Workers Compensation and Employers Liability
This is a live, virtual seminar. There will be 10 minute breaks each hour and a scheduled lunch break. Attendance is tracked hourly through random polling. No exam is required for CE credit or for your CIC update. Exam is required to earn the CIC designation.
Seminar Agenda: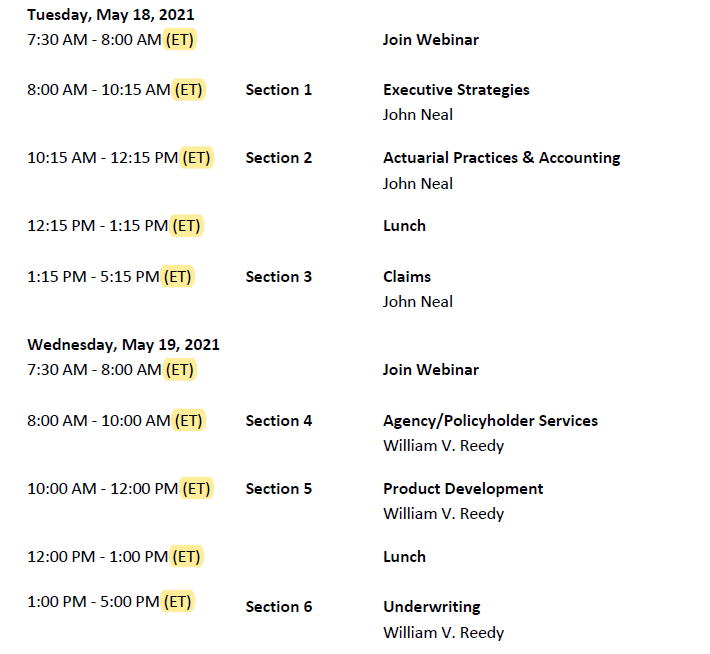 LIVE WEBINAR INFORMATION

1. Adobe FlashPlayer is required for viewing these webinars. Click here to download the latest version. Apple desktops and laptops can run Adobe either in a browser through FlashPlayer or by downloading the "add-in" when prompted prior to login to the webinar.

2. Computer or smart device with audio is required to view the webinar. Audio for these programs is available through the computer or app only so be sure you have speakers on your computer and that the volume is turned on. There is no telephone dial-in access.

3. Tablet and smartphone viewing is available through the Adobe Connect Mobile App.

4. The webinar access link will be provided prior to the webinar.

5. If you are testing for the designation, please read information below regarding the exam.
EXAM INFORMATION
The exam is required only for individuals who are earning the CIC designation.

The exam is not required for individuals earning their CIC annual update or continuing education credit. Attendance is tracked during the webinar and is used to certify your completion.


Exam Takers - What to Expect:
1. You will receive an email invitation to access the exam following the webinar.

2. You will have a 4 day exam window the week following your class to access and complete the exam.

3. PROCTOR REQUIREMENTS TEMPORARILY MODIFIED IN RESPONSE TO COVID-19
The CIC exam can be proctored by a family member until further notice to protect your safety and well-being. Once the state of emergency is rescinded the standard proctor requirements will be reinstated.
INSTITUTE CANCELLATION POLICY: No refund for cancellations within 10 business days of an Institute. Transfers/changes made within 10 business days of the class will incur a $125 processing fee. Other changes made within 30 days of institute will incur a $75 processing fee. If you do not attend, and do not notify IIABSC 24 hours prior to the seminar, you will not be allowed to transfer your registration fee and will not receive a refund. ALL CANCELLATIONS AND TRANSFERS MUST BE SUBMITTED IN WRITING.

IIABSC gladly complies with Title III of ADA
Images
Pricing
$435 includes all CE fees
ONLINE

Categories
Education
CIC Live Webinars (2-day)