gz-education-events-template
None
CIC Commercial Multiline Institute - CIC Live Webinar (2-day) Tuesday November 2 and Wednesday November 3, 2021
PLEASE NOTE THAT OUR EVENTS REGISTRATION SYSTEM
 DOES NOT SUPPORT INTERNET EXPLORER.   
If you have issues with online registration, we suggest that you try another browser.
CIC Commercial Multiline Institute - CIC Live Webinar (2-day) Tuesday November 2 and Wednesday November 3, 2021
11/2/2021 - 11/3/2021
Description
In the CIC Commercial Multiline Institute, learn how to identify Commercial Inland Marine, Crime, Cyber and Employment Practices exposures. The course will also help you learn about the types of coverage available to address these exposures as you develop insurance programs for your clients. Topics covered include:
Commercial Inland Marine Concepts & Coverage
Employment Practices Liability Insurance
Crime Coverages & Endorsements
Cyber Exposures and Coverage
Excess Liability and Commercial Umbrella Coverages
This is a live, virtual seminar. There will be 10 minute breaks each hour and a scheduled lunch break. Attendance is tracked hourly through random polling. No exam is required for CE credit or for your CIC update. Exam is required to earn the CIC designation.
Seminar Agenda: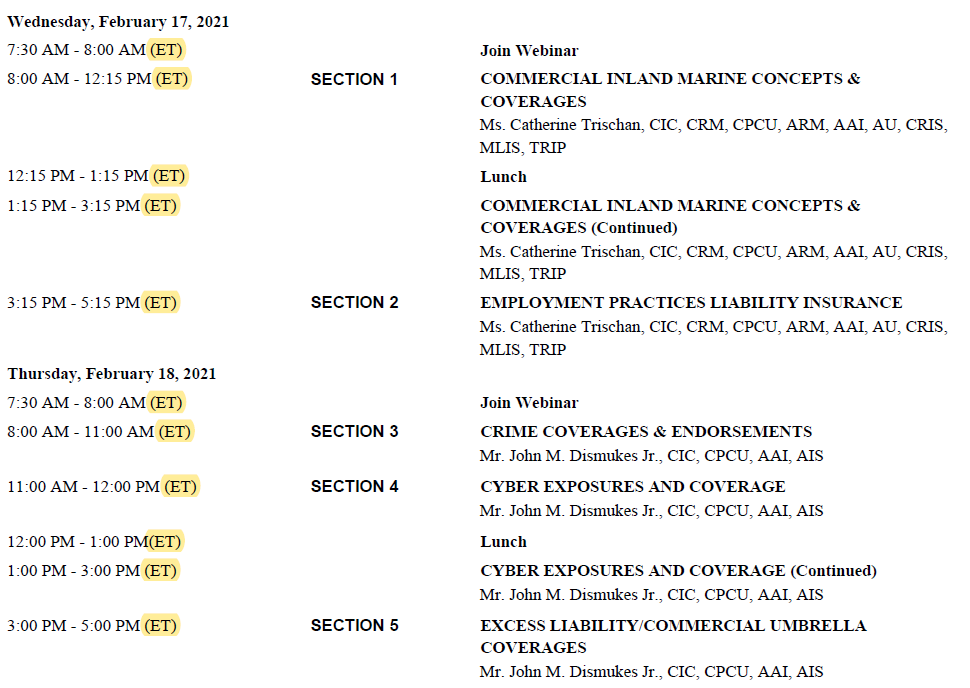 LIVE WEBINAR INFORMATION

1. When clicking on the link to the webinar, you will be asked to join the webinar via your internet browser or via the Adobe Connect app. We recommend joining via the app if you are able to (will initiate download to your computer once selected). If you are unable to access via the app, viewing the webinar through your browser is acceptable.

2. Computer or smart device with audio is required to view the webinar. Audio for these programs is available through the computer or app only so be sure you have speakers on your computer and that the volume is turned on. There is no telephone dial-in access.

3. Tablet and smartphone viewing is available through the Adobe Connect Mobile App.

4. The webinar access link will be provided prior to the webinar.

5. If you are testing for the designation, see information below for details.
EXAM INFORMATION
The exam is required only for individuals who are earning the CIC designation.

The exam is not required for individuals earning their CIC annual update or continuing education credit. Attendance is tracked during the webinar and is used to certify your completion.

Exam Takers - What to Expect:
1. You will receive an email invitation to access the exam following the webinar.

2. You will have a 4 day exam window the week following your class to access and complete the exam.

3. Beginning with programs February 1, 2021 and after, the full proctor requirements were reinstated by the National Alliance. All exam takers will need a "disinterested third-party to proctor their exam. Updated rules and requirements, as well as two (2) "How to" videos can be viewed by clicking here.
4. Details on how to take the exam and the proctoring requirements will be emailed to the participant once the class is completed.
INSTITUTE CANCELLATION POLICY: No refund for cancellations within 10 business days of an Institute. Transfers/changes made within 10 business days of the class will incur a $125 processing fee. Other changes made within 30 days of institute will incur a $75 processing fee. If you do not attend, and do not notify IIABSC 24 hours prior to the seminar, you will not be allowed to transfer your registration fee and will not receive a refund. ALL CANCELLATIONS AND TRANSFERS MUST BE SUBMITTED IN WRITING.

IIABSC gladly complies with Title III of ADA
Images
Pricing
$435 includes all CE fees
ONLINE

Categories
Education
CIC Live Webinars (2-day)